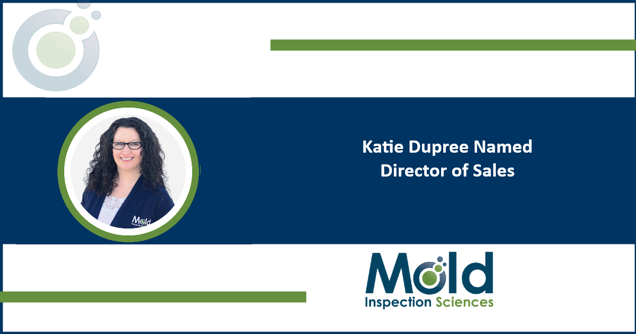 Mold Inspection Sciences announces that Katie Dupree has been promoted to Director of Sales
Boulder, Colorado — June 16, 2021 — Mold Inspection Sciences announced that, effective December 1, 2020, customer service representative Katie Dupree has been promoted to Director of Sales. In her new role, Dupree will continue to work collaboratively with our team to identify and resolve customer challenges and help to deliver objectives. She will assume the responsibility for the continued sales and advisory training to ensure our in-house team is always up to date, has the best and most recent information available, and continues to develop the skills needed to effectively communicate this to our clients.
"Katie has shown herself to be outright tenacious when it comes to helping clients understand our services, and she continually comes up with new ideas to help clients understand how we can help in each unique situation," says Brandon Apples, Chief Operating Officer at Mold Inspection Sciences. " I couldn't be happier that Katie works with us and shares her considerable skills with our team and our clients."
Mold Inspection Sciences seeks to find those who are just as passionate about our business, as we are and that is why we are proud to announce the promotion of Katie Dupree to Director of Sales. Katie earned her degree in Marketing and Journalism and has spent nearly 20 years using that passion to help small and medium sized businesses develop in a variety of ways, but most importantly, grow!
As much as Katie enjoys ensuring our clients get the best possible expertise on the topic of the health and safety of their home, she finds that her happiest place is in beautiful Colorado where she spends the majority of her free time, outside with her son and husband, living the dream.
"There is definitely a sense of accomplishment that comes with working alongside a team of professionals, such as my associates, at Mold Inspection Sciences. From the top to the bottom, we are a team that is fully dedicated to being experts in our field and providing inspection services/reporting that stand far above the rest, from start to finish. I would say the most fulfilling part of my position at Mold Inspection Sciences is having the pleasure of hearing this feedback from our clients, on a regular basis. As my father always told me, if you find something to do that you love, you will never work a day in your life."