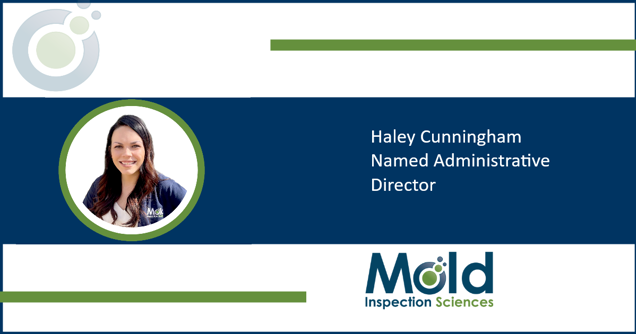 Mold Inspection Sciences Announces Haley Cunningham Promoted to Administrative Director
Boulder, Colorado — June 16, 2021 — Mold Inspection Sciences announced today that, effective 1 December, 2020, customer service representative Haley Cunningham has been promoted to Administrative Director. In her new role, Cunningham will coordinate office activities and operations to secure efficiency and compliance to company and regional policies and regulations. In addition, she will analyze market data and internal trends to better provide services to our clients and to position Mold Inspection Sciences as the first and most obvious choice when it comes to helping people live and work in healthy environments.
"Haley started making an impact on her first day and every day since," says Chief Operating Officer Brandon Apple. "We are thrilled to have her as part of the team and looking forward to her continued contributions towards excellence."
At Mold Inspection Sciences, we work with the top professionals in their field from each avenue of our business and this announcement is no exception. We are proud to announce that Haley Cunningham has been promoted to Administrative Director of our fabulous team. Along with her educational achievements and degree in Business, Haley has a strong and successful track record in management that allows her to provide a unique skill set that combines her ability to provide critical market research that produces creative and analytical insight to marketing, sales, and operations.
Haley is dedicated to being part of the solution when it comes to our valued client's health and safety of their homes and businesses. Haley loves Colorado for many reasons, but her family and deeply loved pets always dominate her time, when she is not helping us here at Mold Inspection Sciences, make a difference the best way that we know how.
"I love being a part of the Mold Inspection Sciences team! Every day, we get the opportunity to help people with mold issues that could majorly be affecting their lives and health. I'm proud to work for a team that prioritizes customer service and does all we can to make a difference in our client's lives!"