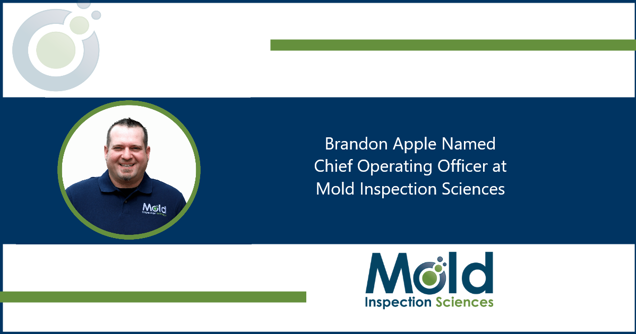 Mold Inspection Sciences Announces Brandon Apple Named COO at Mold Inspection Sciences
Boulder, Colorado — January 26, 2021 — Mold Inspection Sciences announced today that Director of Operations Brandon Apple has been promoted to Chief Operating Officer. In his new role, Apple will oversee the company's operational aspects, coordinate with managers and departments to achieve objectives and goals, promote employee growth, and assist in establishing policies that continue to promote company culture and vision.
"Brandon has worked with us for many years and has already had a big impact on our company," says President and CEO Michael Bains. "Now, having proven himself again and again, he has earned the top operational position.
"Brandon is smart, incredibly experienced, loyal, hardworking, and committed. And among his strengths is his desire to make everyone better. He's a classic coach and loves team building. He is always advocating for the teams and people he manages.
"With Brandon at the helm of operations, I know he and the team will continue to deliver the best service with the highest level of integrity."
In his prior role as director of operations, Apple served as a role model for his teams, mentored and guided staff on their path to success, and negotiated strong business relationships. Brandon has worked with Mold Inspection Sciences since October 2010 and brought with him over 10 years of mold and IAQ expertise.
"I am so proud to be a part of the Mold Inspection Sciences team and take part in all of our accomplishments and accolades we have celebrated over the last 10 years," says Apple. "We continue to raise the bar not only for each other but for the entire industry. I take great pride in the new processes and ideas we have all developed together, which maintains our status as the leaders of the pack in our industry. Thank you to the executive team for the opportunity to continue to celebrate the legacy of this great company. I can't wait to see what the future holds for all of us!"